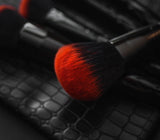 Rouge & Rogue
DRAGON BRUSHES
Original Dragon Brushes – a mystical collection of 9 makeup brushes with  sleek black dragon scale handles and fiery red tips, made of our proprietary blend of professional grade, super soft bristles. Dragon Brushes are expertly crafted to meet every goddess's needs!  No dragons harmed – completely vegan!
Each deluxe set includes 5 face and 4 eye brushes to help SLAY your looks!
Face:
·          Large Powder Brush: Even powder application allows for uniform blending of powder products onto the face and body.
·          Flat Buffing Brush features a flat top brush head with very soft and dense fibers which provides a flawless, high definition finish to liquid or cream foundations while minimizing absorption of product.
·          Tapered Face Brush features a large, tapered tip brush head. This brush works great for applying powder products onto the cheekbones and temples with blush or bronzer. The tapered tip is also ideal for gently contouring the face.
·          Small Powder/Blush Brush features a fluffy, soft slightly beveled edge. Perfect for applying blush to the apples of the cheek and also works well to apply powder for medium coverage.
·          Angled Contour Brush features a fluffy angled brush head with soft, round edges. Use this brush with powder products such as blush or bronzer on the cheekbones for the perfect diffused contour.
Eyes:
·          Firm Blender: Intense, even blending of the crease for strong color application.
·          Firm Shader: Apply intense colors all over lid for a controlled color finish.
·          Tapered Blending Brush features longer bristles with a tapered tip. Use this brush to soften the edges of more dramatic looks or to blend colors together on the lid
·          Small Angle Brush features a sharp, slanted edge to create a smooth and even application for the perfect line or winged liner, if desired.